If you're looking for an affordable, reliable, and no-nonsense family car that does exactly what it says on the box, you could do far worse than begin your search looking into Peugeots. Peugeot have long been established as one of the most respected and reliable car manufacturers in all of Europe, and dare we say the entire world. A company of French origin, Peugeot vehicles are produced by the second-largest car manufacturer in all of Europe, and the company itself is the world's oldest manufacturer of motor vehicles so they are obviously doing something right.
Though we now know Peugeot as a leading car company, once upon a time the company actually started out as a coffee mill back in 1810. Peugeot manufactured their first vehicle in 1886 which was a three-wheeled steam-operated car designed by Leon Serpollet. Thankfully their designs have changed drastically over the last century and recently it has been the Peugeot 308 that has been turning heads for all of the right reasons.
Below are 5 amazing facts about the Peugeot 308
1: It is an award-winning car
Talk about starting out on a high. If you need proof of just how special the 308 actually is, how about the fact that the car itself is an award-winner? That's right, back in 2009, the 308 Turbo was awarded one of the most prestigious awards in the motor vehicle industry as it was awarded the title of 'Car of the Year'. As you can probably guess, to be able to win a title like that, the car has to be pretty special and special it most certainly is. In particular, critics praised the car's fuel economy, comfort, and stylish yet restrained design.
2: There are plenty of eco-friendly engine choices
Thankfully, if you are looking to purchase the 308 you will be pleased to hear that in terms of engine choice, there is something for everybody. There is a wide selection of engine choices available to customers – many of which are ideal for those looking to cut back on their emissions and help save money in the process. If you are looking for an economical and eco-friendly engine, experts recommend opting for the 1.6 liter e-HDi, which provides a very respectable 115 bhp. On top of that, it also provides drivers with a stop/start system for fuel economy. The 308 provides 70.6 mpg, with average CO2 emissions coming in at 103g/km. If customers opt for the manual gearbox, this number can actually be reduced even more, to around 95g/km.
3: The 308 is great on motorways
If you do a lot of motorway driving, this is where the 308 will really come into its own and show you what it can do. The brakes of this model are very firm and strong, so the driver will feel confident, safe, and in control at all times. For those of you that do a lot of motorway cruising, the 308 really shines as it provides a smooth and seemingly flawless driving experience. It does feel a little clunky on narrow winding country roads as gear changes can be slightly frustrating. A great way to avoid this issue however, would simply be to opt for the automatic version.
4: The 308 is one of the most comfortable Peugeots ever
When you drive a car, it isn't just the exterior aesthetics and performance that are important, but also the comfort. It doesn't matter how great the car looks and how fast it is, if the interior leaves you feeling cramped and claustrophobic the novelty will wear off very quickly. Thankfully Peugeot have recognised the importance of being comfortable as you drive, which is why they have created arguably the most comfortable interior ever put into a Peugeot car.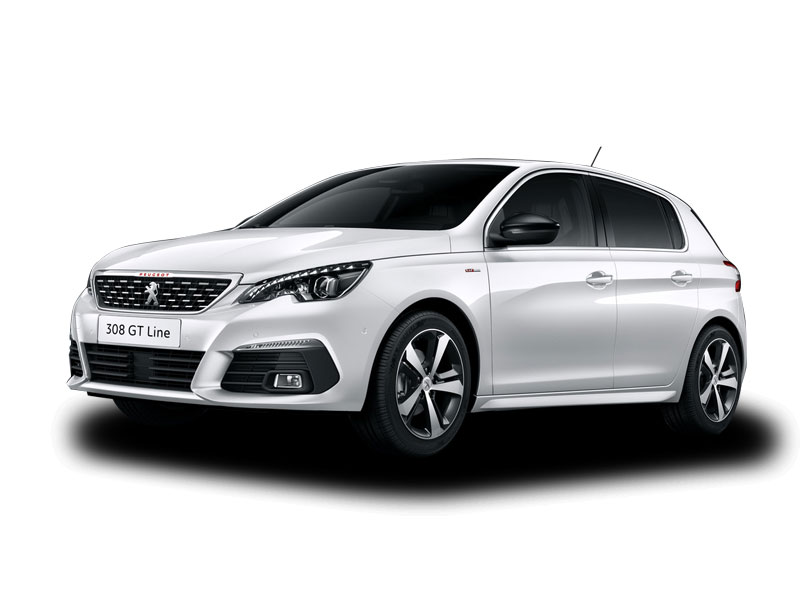 If you sometimes experience backache of stiffness while driving, if you opt for the Feline, Allure, or Active versions of this motor vehicle you will be highly unlikely to experience any back complaints whatsoever, as the seats come with adjustable lumbar support features as standard. The suspension is also great for shock absorption, even over the harshest of bumps in the road. The interior is nice and spacious, so passengers will feel equally as comfortable as the driver.
5: The car is very safe
As you probably know, safety should always be a priority when buying a new motor vehicle, which is why the 308 is a fantastic choice if you do value your own safety and that of your passengers. In terms of safety in fact, Euro NCAP, who are one of the world's leading crash-test specialists conducted a series of tests on this vehicle to test out just how safe and secure it was and subsequently awarded it a top score of 5 out of 5 stars.
Driving the vehicle therefore, should provide the driver with peace of mind as they will know that they and their passengers are well protected in the event of an accident. The car is equipped with numerous safety features, including a stability control system that enables the driver to regain control of the vehicle in the event that it skids, sliders, or simply veers out of control for any reason. There are also six airbags in the vehicle, with two in the front and the remaining four running the entire length of the vehicle at window-level.
Some models even feature an Emergency Collision Braking System. This feature is fantastic as the car will automatically apply the brakes before the driver, if it senses that a collision may be imminent. This is an optional extra that is well worth considering.
As you can see from the above, the Peugeot 308 is a fantastic option for anybody looking for a stylish, safe, reliable, and eco-friendly vehicle that does precisely what it was designed to do. It isn't overly fancy but it is an award-winning vehicle that is available for a very affordable price indeed.