Businesses frequently come up with creative ways for spreading the word to target customers. Ranging from large sign-boards to custom key chains, businesses extensively invest their money and efforts in triggering brand awareness and promotions. One of these various methods includes embroidering logos and taglines on garments and other products of daily use. Custom embroidery digitizing is the technique that plays a silent but pivotal role, behind this subtle marketing method.
Custom Embroidery As The Subtle Marketing Method:
Have you ever wondered that why brands and business spend so extensively, and sometimes apparently extravagantly, on a seemingly trivial method? If yes is your answer, you are not alone. In fact, most of us have been there. What is the need to do so?
Especially, when there are no direct conversions and increase in sales. And even if there is some indirect benefit, it is difficult to establish stern quantifiers in such circumstances. On top of that, unlike most other methods, businesses never promote products or promotional offers to the customers with custom embroidery.
With all that being said, we see businesses employing the method rigorously. How does that make sense? To understand this, it is important to realize that not every promotional effort by businesses and brands is made to explicitly affect the sales. Brands understand that not everyone among their target audience is ready to bring them immediate sales. Not only realizing it, but also respecting it, brands embroider promotional custom embroidery on products which acts as a means of creating brand awareness to the potential customers.
Instead of direct sales, branding helps in introducing and projecting the business to prospects, who are supposedly alien to the business. Instead of shoving promotions to their throats, which is often deemed to be too harsh, it is a subtle way of introducing and interacting with clients. As these products end up in daily use, the method has the potential of taking a particular brand almost anywhere. This aspect is really powerful and thus drains more sense into the concept. It helps in developing brand equity over time. Furthermore, custom embroidered products can be gifted to customers and employees to create brand loyalty.
The Unsung Hero Of Embroidered Promotions-Custom Embroidery Digitizing:
In the midst of this 'salesy' trap, it is often overlooked what goes behind creating these embroidered designs, which is understandable. After all, decision makers are not supposed to worry about such small components of the process. But who said small and silent, is necessarily unimportant. Nevertheless, we will talk about the importance of embroidery digitizing in promotions, without going into intricate technical details.
Flashy as well as diligently embroidered business logos that we see on the back of jackets, front of T-shirts and on top of caps have to be digitized first. Digitizing for embroidery converts an image or graphic file to a stitch file that is read and stitched accordingly by the machine. Ensuring the quality, integrity and crisp of these designs rests with an embroidery digitizer.
Now, let us look into the importance of embroidery digitizing in promotions and branding in a little more detail:
Integrity Of The Design:
Custom embroidery digitizers ensure that when a design is embroidered, the essence of its flair and flavor remains intact. A poorly digitized design renders a shabby outlook which fails to cast a captivating effect. Importantly, this is the worst scenario for a business adopting the strategy of custom embroidered products for promotions and branding. An elegant and catchy design attracts every eye and thus, serves the intended purpose really well.
Think of it this way. If you come across an ordinary embroidered design, will you ever be intrigued to know more about it? No. Irrespective of where it is coming from, there are little chances to believe otherwise. It is the first impression a potential customer gets of your business and hence, it has to be spot-on. Otherwise, it's a missed opportunity.
Are you confused because you never thought such a small component of the process could be this important? Well then, read on because there is more to it.
Embroidering On Range Of Products:
One among many characteristics that distinguish embroidered designs from other custom printing techniques is that they can be embroidered on a range of different products, without significant distortion. Products such as denim, T-shirts, bombers, hoodies, swimwear, caps and even cushions can be enhanced with custom embroidery digitizing.
This property opens the range of options and possibilities for marketers. Consequently, embroidery is thus extensively used for promotions and branding in the mentioned way. Simultaneously, it is important to understand that all these designs cannot be efficiently embroidered on these products without proper manipulation during embroidery digitizing. A digitizer is responsible for making the changes in the digitized file so it can be smoothly embroidered on different products.
Uniform Brand Equity:
Developing brand equity over time is an essential component of effective branding. It requires brand logos and designs to be uniform in shape, texture and overall outlook. In case of embroidered designs, these considerations have to be taken into account during embroidery digitizing. It is the responsibility of embroidery digitizer to ensure that digitized design, embroiders an image that is uniform with brand logo in all aesthetical aspects.
The Crisp Of Embroidery Design:
Another feature that sets embroidered designs apart from the rest is the crisp and crunch embroidery adds to the designs. It is one of the primary reasons why embroidered designs are so widely liked, admired and adopted. Maintaining this crisp thus becomes vital.
There is a partial role of a digitizer in ensuring that sewn-out designs exhibit desired results. Moreover, any custom adjustments that have to be made to the final embroidered design have to be incurred during custom embroidery digitizing.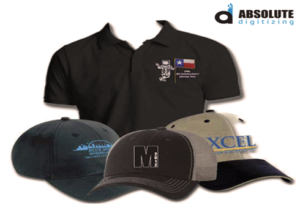 For embroidering custom designs, digitizing thus plays a very important role. To receive designs that are top-notch and comply with above-mentioned requirements, reach out to us. Order custom embroidery digitizing for only $1/ 1000 stitches and get the orders delivered in a span of just one day. Doesn't that sound amazing? Why not try it out?