Almost everyone has thought about borrowing a home loan one time or the other. In today's world, it is impossible to buy a home based on your income purely. The only other financial alternative that you have is acquiring of home loan.
Apart from the convenience of manageable installments, a home loan even has other benefits as well. These advantages are related to tax exemption or rebate.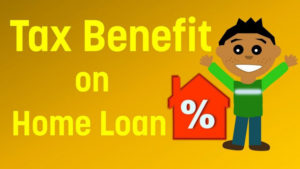 One might think that taking a home loan is like adding to your existing expenses. But if you break down the benefits of this financial service, you will see its positive side. One such factor is the home loan tax benefit that borrowers would receive. Below are more details on the same, along with tax benefits on the principal amount.
Tax Benefits on the Interest
The biggest tax exemption that you can receive, when you borrow a home loan is on the interest amount. Every monthly installment that you pay has a certain percentage of interest included. This interest accumulates over the course of the year to be a substantial sum of money.
To help homeowners save this amount, the Government of India has created a special Income Tax Act called Section 24. According to the laws stated in this section Rs.2 lakh worth of interest paid during a year; can be claimed while filing a tax return.
It means if you have paid Rs.4 lakh as interest on your home loan; you will be able to request an exemption on the same. Ahome loan tax exemption acts as an added advantage of borrowing finance in India.
Tax Benefits On The Principal Amount
Other than,house loan interest tax exemption one can even enjoy benefits on the principal amount. The Section 80C of Income Tax Act states that a borrower can request a claim of Rs.1.5 lakh on the principal paid in a year.
Apart from this, one can even claim exemption on the registration and stamp duty paid for the property. This not only makes for a dual benefit for the borrower but also gives them a method of saving extra.
However, these claims can only be made on houses that are completely built. To prove this, one needs to submit a completion certificate along with their tax return documents. Even with these limitations, a loan interest exemption and principal exemption make a great solution.
Other Tax Benefits
Besides the two mentioned tax rebates, there are more options that borrowers can utilise. They have been created to make it easy for citizens of India to buy their own home. Here is a list of the same:-
1. Joint Purchase Property
If one chooses to buy a property on a joint name, then they can claim the same benefits twice. In simple words, imagine you are able to file house loan interest exemption of Rs.2 lakh and principle of Rs.1.5 lakh once a year. With the help of a joint name agreement, you and your partner will be able to do this on both tax accounts.
You can also get home loan interest tax exemption under construction property.
2. First-time Homeowners
For first-time homeowners, the Income Tax Act provides an additional rebate amount. This amount is around Rs.50,000 in total. It might not seem like a big sum of money but can make a major difference in your savings.
Read Also: