With the world becoming mechanical and people acting more out of habits than reasons, self-development has taken a backseat. It thus necessitates people to be more reasonable to retain the human capacities endowed on them. Since robots are already being worked on in labs, why make your office space another lab for the development of robotic behavior?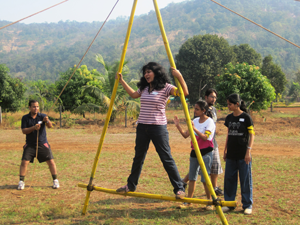 There's a lot of corporate development training that tries to bring back the lost human capabilities. They also provide a necessary brushing to their existing set of skills.
Take a look at how these training sessions are empowering or re-empowering people to learn different strategies and develop new skill sets.
Empowerment of people with core competency skills:
Development of leadership skills
With a growing number of people climbing up the hierarchy, the acquired trend of domination follows leadership. People love getting the task done without a thought about how it will affect the one completing it. The behavior also hampers the efficiency of the juniors.
So, what lacks here is leadership skills. Leadership is more about cooperation than passing orders. These training programs help people acquire the right leadership skills through different activities like 'Great Escape'. Here, the leader has to guide the teammates in overcoming hurdles.
Learning risk management
Risk management is not everybody's forte. Nor is everyone equally efficient to handle situations or projects carrying high risks. These programs for corporate development training focus on this core competency skill by employing participants to tackle high-risk situations. Outdoor team-activities such as 'A-Team' involve balancing a risky A-shaped structure with the help of team members to avoid a fall.
Now, imagine a scenario in your office where your team has to manage, say, a project that carries a high risk of loss. Will you be able to measure the risks accurately and avoid them? Of course, you can if you have taken the corporate risk management training!
Handling a diverse team
Handling a team is not an easy task, that too when it consists of people with diverse beliefs and backgrounds. It requires you to build trust among each other so that you can initiate and move forward in the same direction for task completion. What can be better than something like a 'Trust Walk'? Such activities force you to put your guards down and trust the other person with a dangerous walk. The result? You end up with an insight into how and when to trust your team, which is a valuable lesson in the corporate setup.
Improving communication skills
These activities also help in developing communication skills by prompting people to approach others and work in coordination. While you must be acquainted with scenarios where lack of proper communication leads to missed opportunities, these programs are here to bridge such gaps and make people more interactive.
Instilling creativity
The corporate development training programs not only help develop necessary skill sets but also make a person more creative. A situation where you have to think out of the box to get to the result definitely provides a boost to creativity. Thus, they are a great break and provide refreshment from the monotony of 9-to-5 job roles.
These activities are a great way to build the lost connection. One can frequently participate in them to create empowerment and make themselves more efficient.
Read Also: